spsXChange - Simatic and Scanner Communication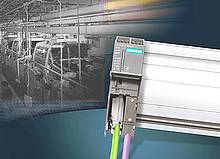 Our new application spsXChange provides:
Communication between an external process, such as a database application, and a Simens Simatic used for controlling production processes.

Monitoring of the communication process and optional email messages when problems occur.

Visualisation of the data transfer between the Simatic and an external application.

Optional monitoring and transfer of scanner data within the production process.

Optional email messages on errors or problems.
Information can be read from Simatic data blocks and passed on to an external decider process and back from the decider process to any accessible data block in the Simatic. The same can be done for data from ip-scanners.
Problems and errors are logged, visualized and can optionally produce email messages to an administrator.
The complete process can be monitored using any browser - even from mobile devices, such as smart phones or tablets.
To be independent of the operation system used spsXChange was created using Java. This enables the monitoring process to run on Windows as well as on server operating systems such as UNIX or Linux.